How Voice Cloning Software Helps Online Fitness Scale during the Pandemic and Beyond
Feb 8, 2022 11:36:40 AM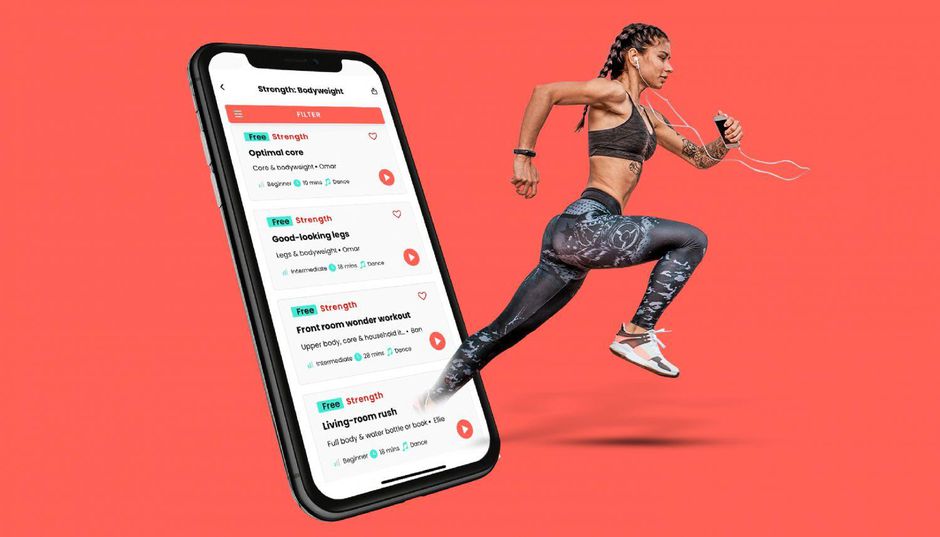 Home fitness was one of the fastest-growing athletic trends of 2021, due in large part to the decline of gym memberships during lockdowns and the limitations associated with them.
In 2020, just 71,000 Health & Fitness apps were launched on the App and Play stores. The physical and mental health market is still growing as more and more options are becoming available for more picky clients.
More people started working out at home but keeping themselves motivated, tracking their routine, sleep cycles, and water intake wasn't so easy.
In this article, we'll take a closer look at the world of fitness apps that help people stay motivated, and in particular, how voice cloning software makes fitness from home easier and more convenient than ever.
How the Pandemic Affected the Adoption of Online Fitness
Quarantine isolation limited our activity to a single room. It functions as an office, a gym, and sometimes a bar. Despite lifted restrictions, the world has changed - businesses let employees work remotely, and people by inertia continued to avoid unnecessary contact, preferring instead to train online or in the fresh air.
Most classic fitness clubs did not believe in the power of social networks and weren't looking to take their fitness experience online until 2020. Everything changed on March 21, when they were forced to close during self-isolation. Sometime later, fitness centers started organizing group training sessions in an online format on YouTube and Instagram.
Although fitness clubs and studios have already opened, many clients opted to continue to workout with a trainer remotely. Doing so reduced commutes and helped them build a convenient training schedule.
Today, 72% of active US adults are exercising more through the use of online fitness videos in comparison to pre-pandemic levels. Mindbody app users using video for their workouts grew by 177% before and after COVID-19 (from 26% to 74%).
Here are some of the best online fitness programs:
Sweat: Fitness App For Women is a personal training app featuring co-founder and trainer Kayla Itsines. The app provides users with different workouts they can do anywhere and anytime.
Daily Burn is an ideal fitness option for those who easily get bored during their workout. They have a vast catalog of full-body group courses, yoga basics, kickboxing, muscle building, and more.
Obé Fitness offers more than 5,000 workouts and 22 live classes per day. You can schedule live classes so that they fit into your daily routine. The app even provides very short classes (around 5 minutes in length) so you can easily find time for them.
Glo is the best option for yoga lovers. The app offers courses spanning 14 styles of yoga, two styles of Pilates, and more than 500 meditation courses (with audio-only options, too), and general fitness workouts.
Since the start of the pandemic, fitness applications and online programs began to rapidly accumulate new users and subscribers on their channels.
However, creating engaging content is a challenging task.
Let's discover the main pain points of online fitness and how voice cloning software helps organize high-quality workouts.
Voice Cloning Software for Online Fitness
Voice and sound are critical elements of every fitness application. They drive motivation and set the proper mood for workouts. Product managers engaged in creating fitness apps face a common problem regarding the lack of opportunities to create personalized audio content.
Users become more demanding as they quickly bore from simple sets of exercises provided by the program. Human-like relationships are more important than ever because most of the time people spend at home, they're not communicating as often as before the pandemic. Robotic and lifeless sounds are usually irritating and unable to drive motivation to do anything.
With this in mind, online fitness creators focused on creating a personal workout experience involving a personal trainer. A personal trainer is someone who cares about you during your workout. They keep track of your performance data and wellbeing, and they motivate and push you.
Moving this experience to an app is not a revolutionary idea. However, emotionally connecting with the user can make a big difference. The only way to do this correctly is through the use of a voice synthesis software that allows for:
P

roducing synthetic recordings that your audience will respond to naturally

Converting any voice into the one you need

Saving time and money on voice actors

Allowing a personal trainer to "speak" in many languages
Voice cloning for online fitness provides the advantages of text-to-speech software and allows your personal trainer to speak naturally. A synthesized workout voice can hit the same tone of voice as any coach, motivating users to exercise every day. To understand how text-to-speech works differently from speech-to-speech technology, and go a bit more in-depth about the differences, check out our voice synthesis FAQ section.
Sign up for a free trial on Respeecher's Marketplace registration page to experience the benefits of AI voices for yourself.
In Conclusion
AI coaches based on voice cloning software make it possible to create a user experience that mimics a face-to-face workout with a personal trainer. With this innovative technology, online fitness serves thousands of users, providing each of them with a highly personalized experience.
Help your users achieve new heights when taking care of their health from home. Save your time and resources, and outpace your competitors by providing a highly-personalized fitness experience.