Respeecher CEO Speaks at Google for Startups Ukraine Support Fund Event
May 26, 2023 9:08:16 AM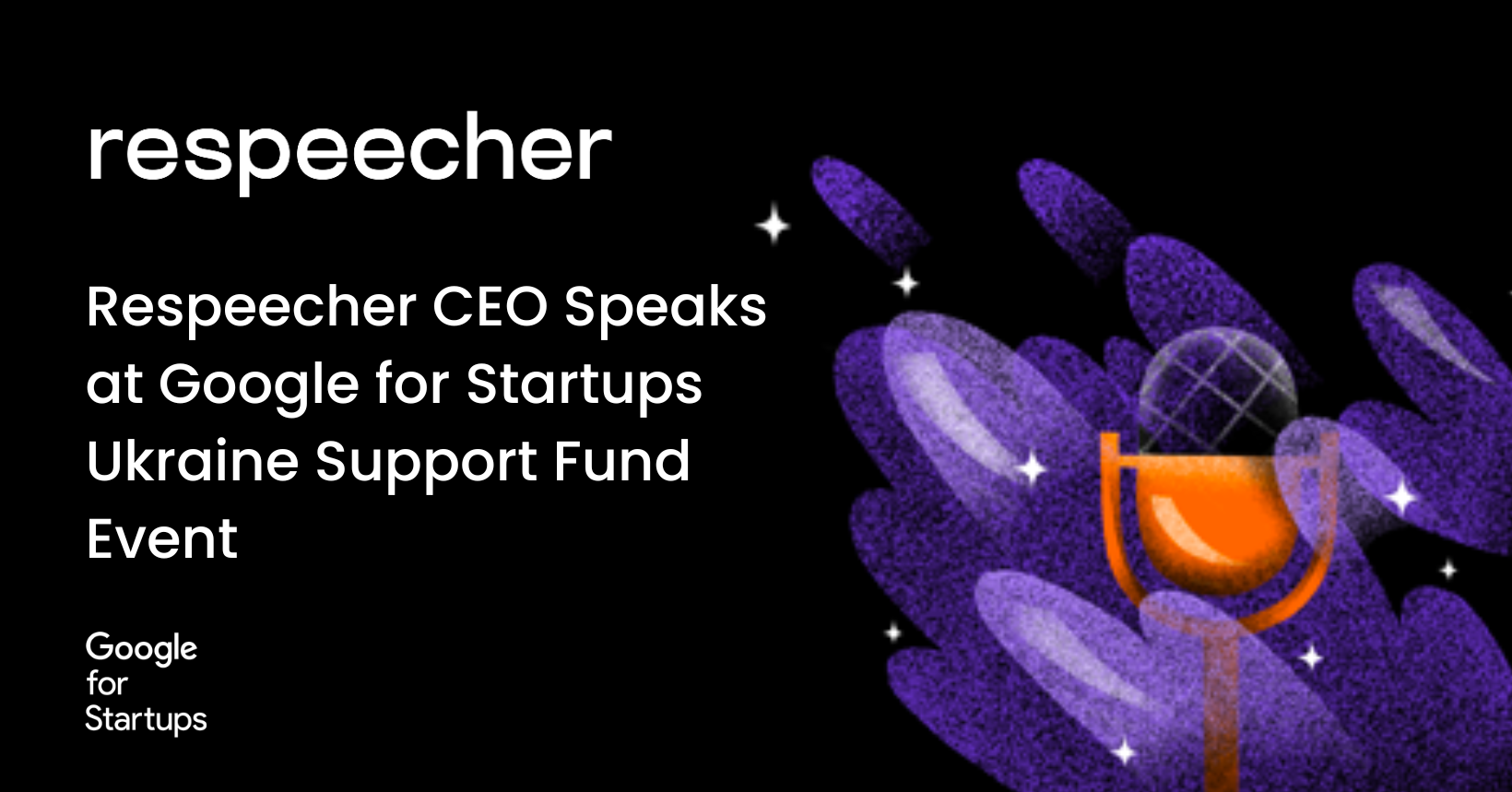 The Ukrainian startup ecosystem has been growing despite the ongoing war, and it is quickly becoming a vital asset for the country's post-war economic recovery. In 2022, Ukrainian startups generated over $6 billion in revenue, a $542 million increase from the previous year. These tech companies have tripled in valuation since 2020, highlighting their potential to contribute to the country's economic growth.
To support Ukraine-based startups during these difficult times, Google for Startups launched the Ukraine Support Fund in March 2022. The program has provided equity-free cash awards and Google support to Ukrainian startups to help them maintain and grow their companies, strengthen their community, and create economic opportunities.
Google for Startups recently held the Ukraine Support Fund Summit, which brought together the 58 recipients of the program and other representatives of the community to honor their accomplishments and resilience. The event showcased the strength and potential of the Ukrainian startup ecosystem by providing an opportunity for Ukrainian founders to connect with one another in person and pitch to top investors and industry leaders from around the world.
The Ukraine Support Fund recipients have achieved remarkable growth in the past year. They have gone on to raise $10.2 million in funding, grow revenues by an average of 106%, employ more than 800 tech workers (46% women), and hire 216 people. Many of these companies have expanded to new countries and markets, and several have been recognized by world experts, such as Zeely, whose founders were listed in Forbes Europe's 30 under 30 list.
Respeecher CEO Highlights Extraordinary Resilience of Ukrainian Founders and Startups During War
Respeecher CEO, Alex Serdiuk, spoke about the resilience of Ukrainian founders and startup team members during the war, stating that their ability to continue operations despite the difficult circumstances is extraordinary. Despite the war, Respeecher was able to deliver major pieces of work, including recreating the voice of James Earl Jones for the Obi-Wan Kenobi series from bomb shelters, God of War Ragnarok, and America's Got Talent.
Serdiuk's speech serves as a reminder of the incredible resilience and perseverance of Ukrainian entrepreneurs and startups, who continue to innovate and contribute to the global community despite ongoing conflict and adversity.
Read Serdiuk's entire speech below
"Like many others here, we have been going through the war with a lot of dedication to our work. In 2022, we were able to deliver some major pieces, all on time. The voice of JEJ for Obi-Wan was made from bomb shelters, and work for God of War and America's Got Talent was delivered while Russia was heavily shelling our country.
The resistance of Ukrainian founders and startup team members is extraordinary.
Another big challenge to keep operations afloat was preparing for winter. Startups were working on setting up generators, batteries, Starlink, alternative heating, and water supply to be able to work without electricity and some basic utilities. This was necessary because Russia has been targeting civilian infrastructure, trying to put our country in darkness.
They didn't succeed. And now, at the beginning of spring, days are warmer, and we have a bit less to worry about.
Respeecher has been delivering work all the time for major Hollywood projects, as well as building some impactful initiatives, such as helping patients with speech disorders all over the world and democratizing the finest synthetic speech tools for a global audience of creators. We grew 2.5 times as a business in 2022 and hired 18 Ukrainians throughout the year.
We are currently at the point where we see our future as bright. It may be harder before it gets better, but some things have changed substantially.
We know that the country and people of Ukraine can get through this; it has already been proven over time. The Armed Forces of Ukraine, our government, and the nation, in general, are doing things that seemed impossible before, and we will not break.
Also, we see that only a very small fraction of startups have not gone through this. Most are operational and growing.
A whole new sector has appeared and is developing fast: military tech, defense, and cybersecurity. So many new products are being built that contribute directly to the battlefield. This is an extraordinary opportunity for venture business, as all those products will serve not only the victory of Ukraine but for the free world.
And the last thing I wanted to mention is this: just imagine what can scare or discourage a business or Ukrainian founder after what they have been through. Practically nothing.
Please keep Ukraine high on the global agenda. Ukraine is changing the world for the better, with your help."
This year, you will see more articles about the events that Respeecher participates in, right here in our new News section. Subscribe to our newsletter to stay up to date.