Respeecher Recognized for Voice Synthesis in Samsung Next's "Synthetic Media Landscape"
Mar 12, 2021 7:46:40 PM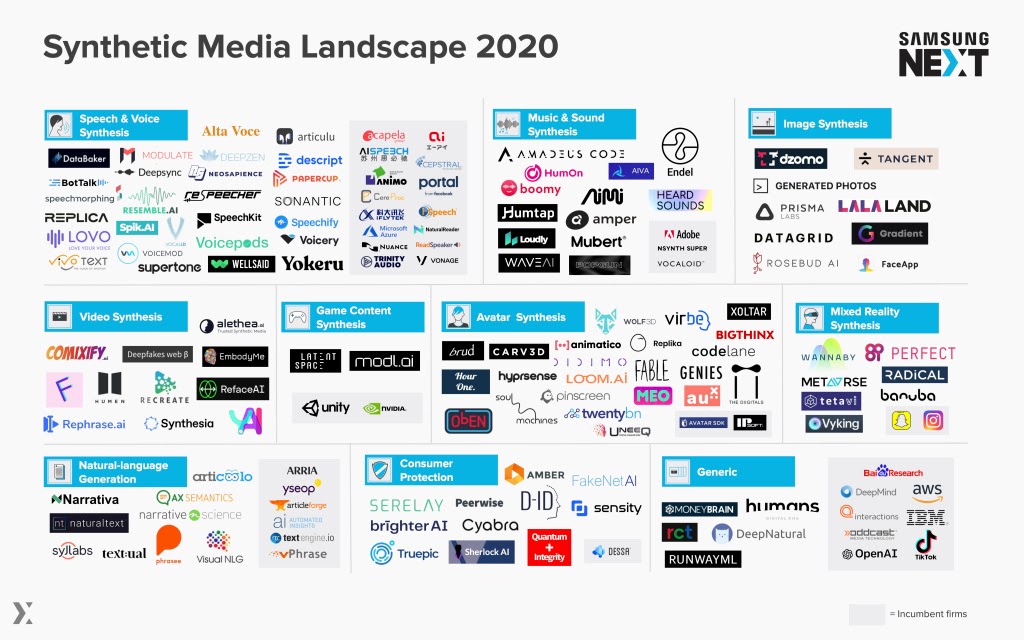 Technology is a disruptor for many industries, especially when it comes to entertainment. In the past years, it has completely changed the way media content is produced and consumed. The use of Artificial Intelligence resulted in synthetic media, a term that refers to media content generated or modified through machine learning and deep learning.
Generally speaking, synthetic media includes technologies such as voice cloning or voice synthesis, video synthesis, music synthesis and many others. These methods offer content creators much more flexibility and potential reduction of costs.
For a deeper understanding of the synthetic media industry and the opportunities it brings, Samsung Next launched the Synthetic Media Landscape 2020 - a complex overview of the market, which is growing at a fast pace.
The report contains a list of 172 companies (entirely startups), that develop proprietary technology for creating synthetic media, based on AI. The countries where the startups come from are: Unites States, United Kingdom, Israel, Germany, Japan, Canada, India, China, South Korea, France, the Netherlands, Switzerland, Belarus, Australia, Spain, Ukraine, and more.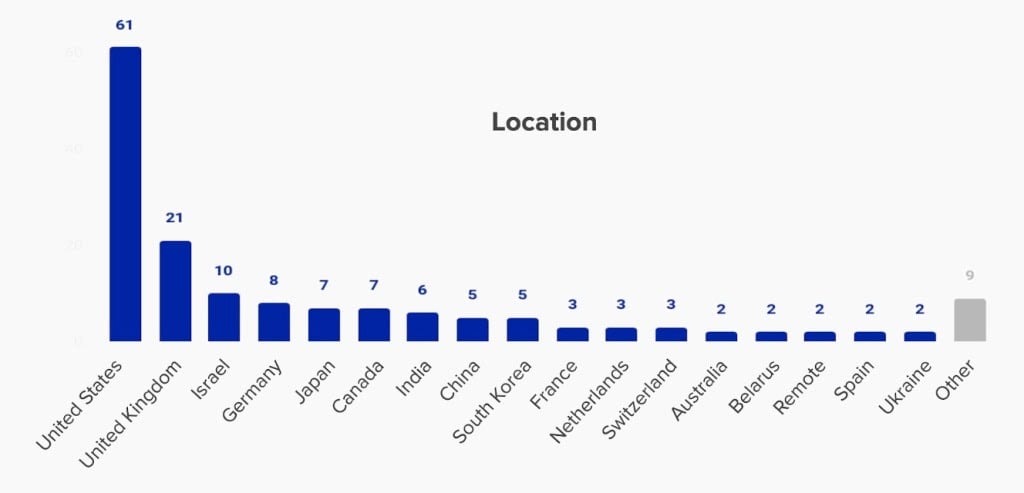 Source: Venturebeat.com
The startups are divided into 11 clusters:
Speech & Voice Synthesis (26% of the 172 companies) - Respeecher was included here, in the first cluster;

Avatar Synthesis (17%);

Music & Sound Synthesis (10%);

Natural-language Generation (10%);

Generic (8%);

Consumer Protection (8%);

Video Synthesis (7%);

Image Synthesis (6%);

Mixed Reality Synthesis (6%);

Game Content Synthesis (2%).
From the Synthetic Media Landscape, you can learn valuable information about the industry and why it is named "the third evolutionary stage of media". Back in the day old media enabled mass distribution through broadcasting.
Nowadays, democratized media distribution makes it easy for everyone using social media to access information. Soon we will have synthetic media, that will also democratize media creation and creativity.
The report contains a total of 107 pages and dives deeper into the usage of synthetic media and how it will change the entertainment industry, providing some use cases of disruption.
For example, it will enable post-edit videos and audio files, so filmmakers will be able to make changes when editing a text script, with no need to shoot a certain scene for a second time.
Taking voice cloning as an example, creators will be able to use famous actors' voices with no need of their physical presence in a certain place - but with their prior consent, of course.
Ethical concerns
It's important to mention that the Synthetic Media Landscape refers also to the challenges and ethical concerns that this industry inadvertently brings up.
Used for negative purposes, synthetic media can create unethical deepfakes, which can be used for purposes such as manipulation, fraud or fake news: for example, to pretend that someone said something they never said.
The report includes companies working on technologies to protect consumers from misuse of synthetic media and Samsung Next encourages companies to commit to high ethical standards.
If you want to take a closer look at the report, you can download it from the 'Synthetic Media Landscape' website.
Our vision for the future of synthetic media
We think that voice cloning will forever change the way audio content is produced and consumed, leading to countless opportunities for all parties involved in content creation. And the fact that Respeecher was included in the Samsung Next's report only reinforces our mission.
We help content creators use voices in new ways, whether they want to resurrect a voice from the past, more easily record kids' voices (even after they've grown up), or just want more creative control over their projects.
We are committed to respecting a strict code of ethics in order to make sure that our voice conversion technology is not used in unethical ways. Our goals are to:
Educate the public about the capabilities of synthetic speech technology;

Develop automatic detection algorithms that can detect synthetic speech even if it has not been watermarked by us;

Work with gatekeepers of content such as Facebook and YouTube to limit the harm of voice cloning.